Why Choose Us
Clarity Vision Group, located in South Forsyth County is recognized as a leader in patient care for residents of Cumming, John's Creek and Alpharetta. Since we started in 2005, licensed optometrist, Dr. Mark Wiggers, has offered the highest standards of quality and individualized attention in a relaxed, professional setting.
We offer a full range of options to meet your eyecare and eyewear needs. Starting with a thorough Eye Health and Vision Examination which results in personalized recommendations for eyewear that will solve any vision challenges you are experiencing.
At Clarity Vision Group we provide the eyecare treatment that is right for you. We stock a large selection of the most comfortable contact lenses as well as fashionable frames - including these designers: Coach, Prada, OAKLEY, Ray Ban, Maui Jim, Liz Claiborne, Kensie, Vera Bradley, Juicy Couture and Izod - that are sure to suit your eyewear needs.
Dr. Wiggers has all the latest information on surgeries to improve your vision, from the latest custom LASIK procedures to the new implantable lens options. Referrals will be made to the most sucessful surgeons to ensure the best outcome for your vision.
Please don't hesitate to contact us if you are concerned about your general eye health or are interested in LASIK screening, hard-to-fit contact lenses, or glasses you can see with. Our optometry office is just a short drive from anywhere in North Fulton including Alpharetta, Roswell, Milton and Johns Creek, and Forsyth County including Cumming, Dawsonville and Ball Ground. We look forward to serving you!
Our Mission Statement
To be the practice our patients turn to for the finest in quality and service.
To provide a superior eyecare experience for every individual, through patient education and technology, by dedicated doctors and professional staff.
We realize you have many choices for your eyecare and eyewear, but you may not be aware there are big differences in the quality you recieve. I believe you will be best served at our office because:
1. Our staff actually cares about you and your vision,
2. We give you our full attention, and listen to your needs and concerns,
3. We provide top quality glasses and sunglasses, that all include our 2-Year Temple-to-Temple Warranty,
4. Our staff is competant and experienced, and
5. Your Eye Health and Vision Examination is thorough and explained, step-by-step, to give you a good understanding of your status and ultimately, clear comfortable vision.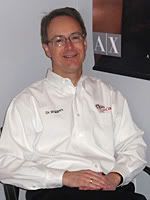 Sincerely,
Dr. Mark Wiggers, Owner
Optometrist